Filtering the calendar is important for creating saved views or narrowing your search of important deadlines.
Steps to begin filtering your calendar:
Make sure you are on the calendar view called All Content Tasks. (See dropdown menu below) This will ensure you are not applying any previous filters for your new search. 
Click on the funnel icon. The filter dashboard will appear above the calendar.
Active Tab
The top tab in your filter dashboard is the Active Tab. This shows all events and filters that are currently being applied to your calendar view.  You can remove filters as needed form this area.
To display the filtering options that have been selected, click Active. Delete a filter from the Active display by selecting the X to the right of the filter name.
Add Tasks and Milestones Tab
Tasks and milestones refer to important dates on your assets that you wish to display.  To specify which tasks and milestones you wish to see, click on the Add Tasks and Milestones Tab.
A Task on the calendar is a deadline specified in your workflow. (i.e. Submit Content, Publish or Mark as Complete, etc.)  You can choose to see all tasks, just your tasks, or choose from a list of specific tasks.
A Milestone is an important date associated with your content, such as the date it was created, submitted, published, or promoted.
In the below example, the view is being narrowed down by the tasks "Submit Content" and "Review Copy."  This filters the calendar so that only the deadlines for those specific tasks will appear.
In this next example, the view is being filtered by the Created milestone. This shows you all instances of content being created. This is done by selecting Specific milestones in the content milestones box, and then choosing Created from the field that appears.
Add Filters Tab
If you would like to narrow your search down further, it is possible to add filters to your view.  To specify which filters you wish to see, click on the Add Filters Tab.
In the example below, the user is filtering by content types Blog Post, Ebook, and Landing Page. Once this filter is in place, only task deadlines on those three content types will show on the calendar.
At the top of the filters menu, you have the option of excluding completed tasks. Completed tasks display on the calendar with a strike through unless this box is checked. Checking the box will hide all completed tasks.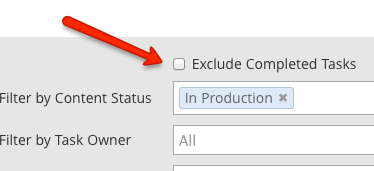 Please note: The Archived filter lives under the status filter in the calendar and content catalog. Unlike other status filters, you must use it as a stand-alone filter. It is not possible to filter archived content along with content that is not archived.
Example: You can filter for both Published and Promoted content at the same time, but not Archived and Promoted.
Legend Icon
Use the Key icon 
 to display a color-coded legend that differentiates categories within your filters. Select the color-coded criteria to toggle them on and off. 
Saved Views
It is a best practice to save all views that you will be using again for easy access. Learn how to create saved views here.